Čiga Apartments are situated on the south coast of island Hvar in a village called Ivan Dolac with a view to the islands Korčula and Vis.
There is a pebble beach 50 m from the apartments and a nudist beach at the distance of 200 m from them.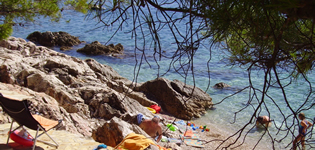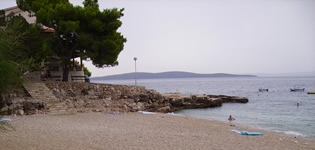 The island Hvar is characterised by a crystal clear blue sea, beautiful coves and pebble beaches. Moderate climate, rich vegetation, vineyards, olive yards and endless lavender fields, historical and cultural sights together contribute to make Hvar one of the most beautiful islands.
Ivan Dolac is a village on the south side of Hvar, at the area called a Middle Beach by its residents. It was already mentioned in the 15th century. There was a village at these beaches in the mid of the 15th century called Zaca, but this name is now confined to the eastern part of the coast and the new name is Zavala, named after another part of the village Taja, where there was a monastery which dates back to before the 15th century. In 1606 the prince Tadija Kačić got for himself and his shore men a property in Zavala and Taja (the oldest hamlet of contemporary Ivan Dolac) and the ruins of his house are the outset of Ivan Dolac village.